Industry solutions
Convenience, safety and hygiene for guests
Guests' well-being is paramount at all time in the hotel and restaurant industry: experiences and comfort, tasteful surroundings and smooth service, along with hygiene and safety, are important concerns for any hotel in ensuring guests have a good time and great memories of their evening or stay.
The entrance area of any hotel sets the tone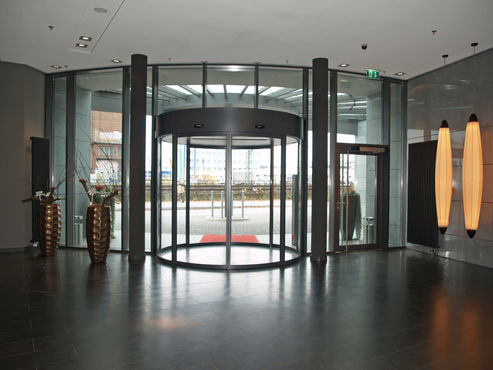 Slimdrive SCR in the M?venpick Hotel © MM Fotowerbung / GEZE GmbH
Hotel guests and visitors enjoy a pleasant reception in the entrance area. The lobby also needs to be protected against draughts and disruptive exterior noise. Ultimately, the entrance area sets the tone of the hotel calling card and should reflect the building's overall design concept. GEZE offers multiple solutions for these highly frequented areas, which can be custom-integrated to match the architecture. The range includes: automatic sliding doors, semi-curved and curved sliding doors, corner sliding doors, revolving doors, or glass doors with bottom door closers.
Transparent, bright, and open entrance areas were designed for the M?venpick Hotel Hamburg, for instance – including GEZE solutions. Slimdrive, with an overall height of just 7 cm, has proven an excellent choice for perfect integration into the fa?ade. The IGG integrated all-glass systems by GEZE create light and transparency.
To create a particularly impressive entrance area, GEZE TSA 325 revolving doors are a great choice. They lend a welcoming feeling, protect against unwanted draughts, and improve the building's energy efficiency.
Fast hotel service - with no obstacles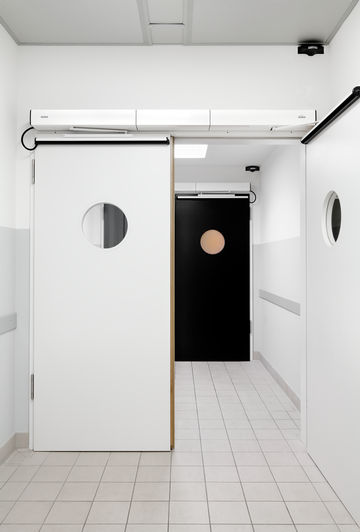 Quick service with automatic doors © Stefan Dauth / GEZE GmbH
Whether visiting a restaurant or staying at a hotel: guests are happy if their stay goes smoothly and effortlessly, and that includes fast service. The GEZE EMD series is a real asset: swing doors between the kitchen and restaurant open quickly and reliably, ensuring unimpeded service. Flexible installation on the hinge or opposite hinge side is a major advantage. But most impressive is the unique overall height of just 7 cm which ensures perfect integration into the room design.
An electrical motor operates the doors gently and quietly. The ECdrive offers reliability without compromises. Especially in areas where personnel need to provide service quickly and without interruption, ECdrive provides an economical solution: self-cleaning roller carriages and high-quality materials ensure the system runs quietly and smoothly. In terms of sustainability, our ECdrive T2 also impresses with its thermally separated profile.
Tasteful ambiance with functional comfort
Hotel Schloss Elmau Retreat © Robert Sprang / GEZE GmbH
In addition to a hotel's service, its interior often plays a key role in guests' impressions. Aesthetic awareness and functional comfort combined bring a hotel's true unique character to light. GEZE offers a variety of solutions to help create a tasteful ambiance. Partition systems, for example, are an ideal way to attractively structure various areas. A variety of materials or decorative glass elements with custom silk-screen print motifs can be used to combine or separate bar and restaurant areas in any configuration. GEZE also offers solutions for room division and design in private guest areas: high-quality Aerolan and Geolan stainless steel sliding door systems separate bathroom, bedroom, and living areas elegantly, while also saving space.
Design & comfort needn't be mutually exclusive in entrance areas either. For example, GEZE door solutions offer sleek and understated support to the design of a vestibule in the Hotel Schloss Elmau lobby: two fine-framed linear Slimdrive SL NT glass sliding door systems provide access to the patio, with its magnificent view of the Wetterstein mountains. As installation of the mere 70 mm tall drives on fixed glazing wooden elements demonstrates, classic designs by GEZE can be integrated into any architecture and every environment.
Hygiene in hotels and restaurants with automatic door systems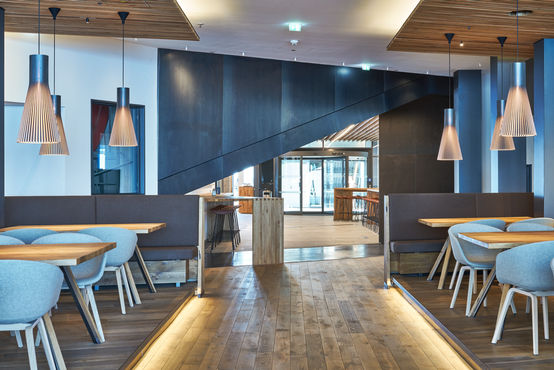 Automatic doors from GEZE in the Panorama Restaurant on the Zugspitze © Robert Sprang / GEZE GmbH
GEZE automatic door systems naturally ensure accessibility and a smooth service. At the same time, our products support hotels and restaurants in implementing hygiene measures. Food hygiene in particular is subject to particuarly stringent statutory provisions, such as EHEDG standards. Buthygienic environment plays a key role in ensuring a wholly positive experience in many other areas too. Whether in entrance areas, corridors and passageways, sanitary facilities, conference and wellness areas or even in restaurants, manually operated functional elements will always be touched by many people, resulting in problems in terms of hygiene.
Automatic swing doors, sliding doors and revolving doors by GEZE help to establish hygienic conditions here, as well as ensuring the safety and well being of guests and staff. They allow people to pass through the doors in hotel facilities and restaurants without making any contact, all thanks to our reliable drive units. Coupled with our activation devices and sensors, we can provide customised solutions to cater to any door situation.
GEZE – Security through advice
The jungle of regulations and legal demands is growing ever denser. GEZE Global Account Management for the hotel and restaurant industry can advise you through every phase of service. Personal advice on the standards and laws that regulate door, window, and safety technology in various international regions is a standard part of the service we offer. This allows us to comply with uniformly high safety standards – no matter where your project is located. We combine experience from numerous hotel and restaurant industry projects with the expertise of our international network of consultants in everything we, which enable us to offer effective collaboration based on partnership.