Industry solutions
Hygiene, accessibility, and a caring environment
Operating theatres, treatment and patient rooms, and waiting areas: rooms in doctors' practices and hospitals must be designed to be comfortable, accessible, and hygienic to optimally support the treatment process.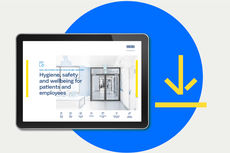 Download brochure for the healthcare sector
Hospitals, doctor's operations and care facilities are subject to stringent hygiene and safety regulations and must also ensure accessibility. Door, window, building and safety systems need to be perfectly attuned to each other. Ultimately, the health of patients, staff and visitors is at stake.
Download brochure (PDF | 5.79 MB)
Heavily frequented yet barrier-free entrance areas
The "Ark" at the Stuttgart Clinic: inviting and playful ©
The heavily frequented entrance areas at hospitals are used by children, by patients with walking aids, as well as by visitors with luggage. GEZE offers lasting and, above all, safe solutions for these areas. Sliding doors with the GEZE ECdrive promise uncompromising reliability. Self-cleaning roller carriages minimise friction while opening and closing, allowing the door leaves to move quietly, and reducing maintenance work. GEZE offers the Slimdrive for fa?ades and areas where design is paramount. Based on highly modern control technology and high-quality materials, the drive is distinguished by its low overall height of just 7 cm. The drive is in use, for instance, at the Stuttgart Clinic: the Olgahospital/Women's Clinic creates an inviting atmosphere using an automatic sliding door system that leads directly to the 'Ark' children's play and fun area. A passage measuring almost three metres wide, sleek door profiles and Slimdrive SL NT-FR drives integrated into the ceiling combine accessibility with emergency exit protection and transparency. GEZE solutions were thus used to complete a renovation that is accessible to disabled users.
Go to the GEZE Stuttgart Clinic case study: Olgahospital/Women's Clinic
Comfortable and functional: electric strikes and door stoppers, free swing and comfort hold-open functions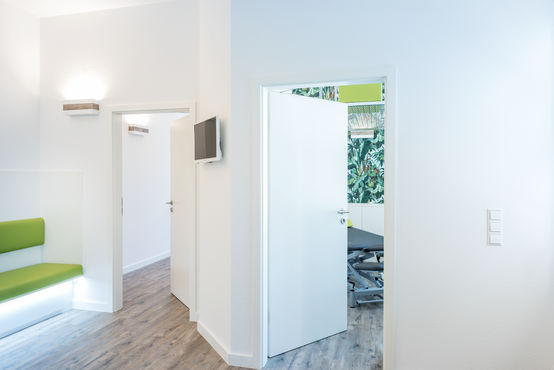 No more slamming doors, thanks to ActiveStop © Jürgen Pollak / GEZE GmbH
Some people close doors with a little push, while others give them a goody shove – however you close it, a door should shut quietly without slamming, especially in areas where patients need to rest. GEZE ActiveStop provides a system to meet precisely this demand which means that slamming doors, trapped fingers and damaged walls are a thing of the past. Separate door stoppers are no longer necessary.
GEZE ActiveStop has received two awards for outstanding design. The door damper won the German Design Award 2016. This international prize is awarded by the German Design Council, the brand and design authority and organiser of one of the world's most renowned design competitions.
Doors can be equipped with free swing and comfort hold-open functions for additional convenience. The free swing function was combined with the comfort hold-open function on central doors in the Robert Bosch hospital in Stuttgart. The door locks easily and smoothly at the end of the free swing range, so preventing any unwanted "shutting" – if there is a draught for instance – and also stops the doors becoming stuck in a half-open position.